Tire Manufacturing

---
Products for General Tire Manufacturing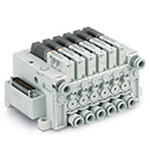 Vacuum Equipment
Vacuum generator units, vacuum cups, vacuum buffers, vacuum sensor switches, fittings and vacuum instrumentation solutions allow the broadest utilization of technology and performance to meet your design specifications. Most options are modular allowing you to add only those that are relevant to your application. SMC vacuum cups are available in many different materials, sizes and shapes, and include options like stroke buffers to ensure that a perfect fit is made for each application. The diverse performance characteristics of SMC vacuum products allow utilization in a wide array of applications from manufacturing, packaging, assembly, to material handling. Precision combined with performance and a full line of accessories offers a comprehensive engineering solution to meet your specific need.
Featured Products for Tire Compounding and Mixing

Refrigerated Air Dryer
Series IDFB refrigerated air dryers feature improved ambient (113°F/45°C) and inlet (149°F/65°C) air temperatures as well as improved flow ratings over standard models. With an improved auto drain and standard dust filter, these units will provide years of reliable service.

Pneumatic Sensors - Integrated Display
Pneumatic sensors with buttons and a display to set and read values from an operator's position.
Featured Products for Extruding Calendering and Cutting

Bar Ionizers
The IZT bar ionizer is an industrial static control solution. Bar ionizers generate a curtain of static eliminating ions effective for a distance up to 2000mm/6.5 ft. The IZT's low profile is also ideal for tight clearance installations. Compared to SMC's IZS4 bar ionizers, the power supply and control modules have been separated from the bar, resulting in a reduction in bar height. IZT bars can be placed closer to static-carriying materials in more confined adjacent spaces. The separate controller can be mounted in a workstation for easier access and observation during operation. Models include the standard IZT40, the IZT41 which adds auto-balance, emitter maintenance detection, and I/O signals, and the IZT42 with low amplitude ion generation for sensitive electronics. Extending the value of IZT, one controller can manage a maximum of 4 ionizing bars. Needle cartridges are easily removed, without tools, for cleaning or end-of-life replacement, futher extending this ionizer's value.

Precision Regulators
Series IR Precision Regulators are designed to be compact and light weight. The maximum set pressure has been expanded from the conventional 0.7MPa to 0.8MPa. Relief flow has been increased by nearly 5 times (compared to SMC IR201, IR401). The optional bracket and pressure gauge can be mounted on either the front or back of the unit.

Speed Exhaust Controller
The ASV series of speed exhaust controller is available in two styles depending on size. The ASV120F/220F are elbow styles that look like a standard speed controller. The ASV310F~510 are a tee-type design with twice the flow capacity of a standard speed controller and also add flame resistance for use in welding applications.
Featured Products for Bead Building

IO-Link Compatible Electro Pneumatic Regulator
Series ITV electro-pneumatic and electronic vacuum regulators control air/vacuum pressure steplessly in proportion to an electric signal. The units are compact, lightweight, and include an easy to read LED display. Input signals can be analog current or voltage, 4 or 16 point presets, or a range of communication protocols including CC-Link, DeviceNet™, PROFIBUS, RS-232C or I/O-Link. EtherNet/IP™, and PROFINET are available as well. See the separate configurators on this site. Monitor output is available as an analog or switch signal. ITV regulators are IP65 equivalent.
Featured Products for Tire Component Preparation

Process Instrumentation
To further compliment an abundant line of air preparation and connector equipment, SMC offers a selection of electronic sensors including digital pressure switches, vacuum switches, and flow switches.
Featured Products for Tire Building
Featured Products for Tire Curing
Featured Products for Tire Building